Team Information
Memphis will feel the heat once again this Summer as the Annual World Championship Hot Wing Contest & Festival: (WCHWF) fills Memphis with the tantalizing, alluring aroma of hot wings on the barbie.
For the First Annual World Championship Hot Wing Contest & Festival (WCHWF) there will be approximately 80 team spaces which will be guaranteed on a first-come-first-served basis. Spaces may become vacated closer towards the date of the event should any team(s) not complete all the requirements of the application process. Extensions or announcements for additional space may be allowed at the discretion of management, but cannot be guaranteed.
APPLICATION FORM BELOW- APPLY ONLINE NOW
International Village
Teams
Argentina – Pampa Grill  Eduardo Violet  Jose Vargas
Brazil – Mr. Fumis BBQ Team  Arthur Fumis  Pedro Gonzalez
Canada – Rusty's Smoke   Steve Perrin  Greg Aubry
Costa Rica – Grillroids  Luis Ceciliano  Andres Ulate
901Q is headed up by childhood friends Chris Ball and Jerrol Tate. We have been competing on the KCBS and MBN BBQ circuit since 2008 generating 14 Grand Championships and 123 Top 5's.  Award highlights include Reserve Champion at Memphis In May (Ribs), 9th at Memphis In May (Shoulders), 7th at American Royal (Brisket) and 2-time Reserve Champion at the World Championship Wing Festival (out of 2 events entered).
Our team cooks for the families at The Ronald McDonald House several times a year – each time growing more and more appreciative of the efforts that go into supporting these families during this time of need. It makes you appreciate the things we all take for granted.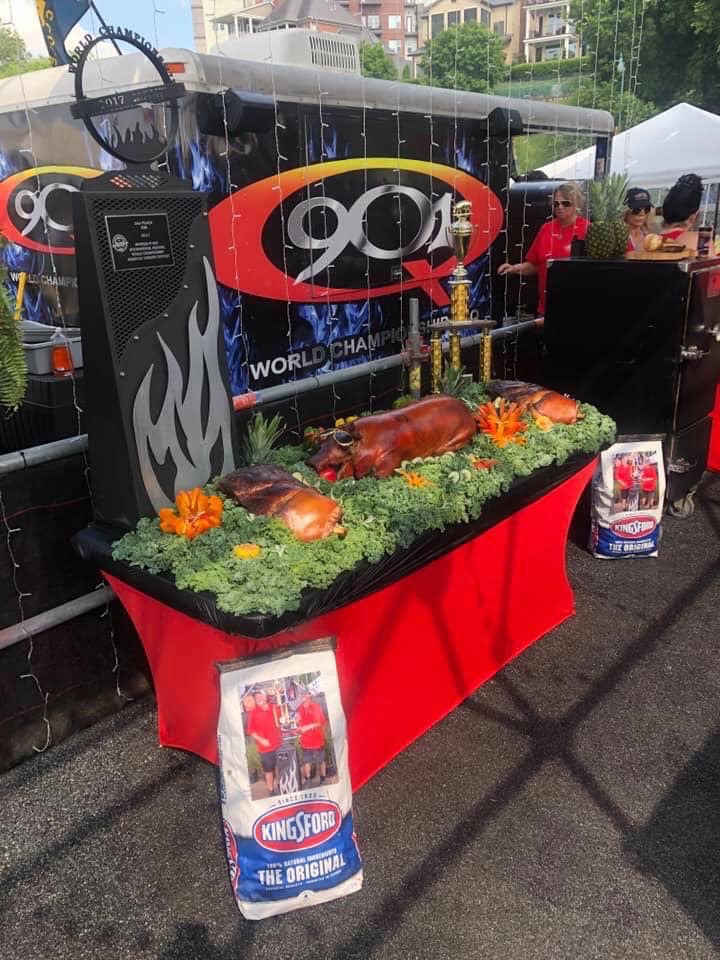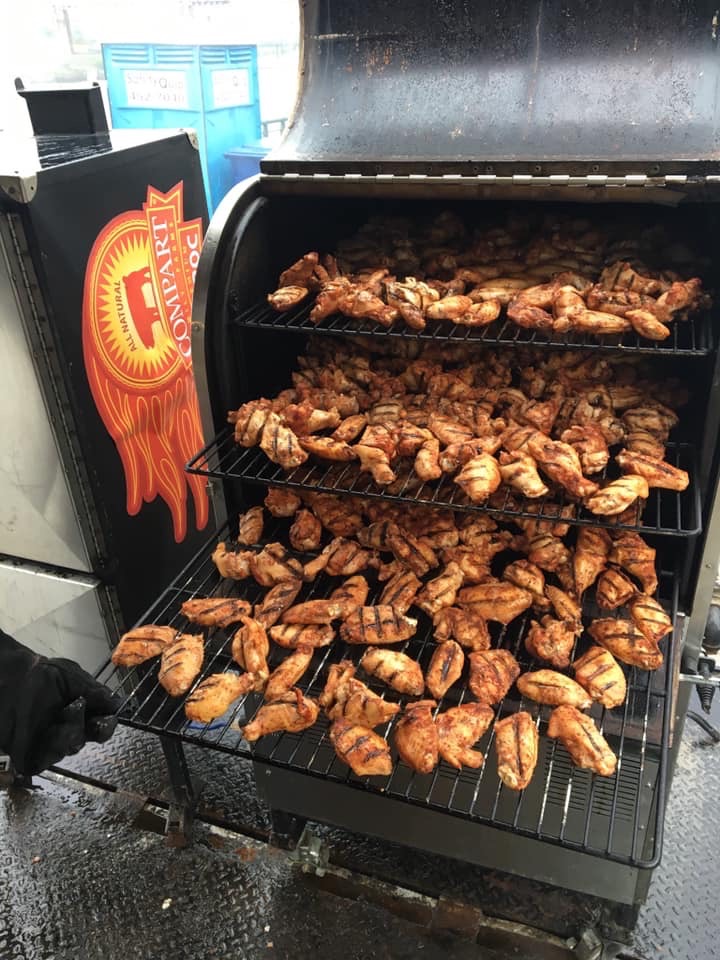 VIP Tent
VIP at the International Village is sponsored by Cruise Planners VIP Tickets are $150.00. Buy passes here:
Sponsored by: Cruise Planners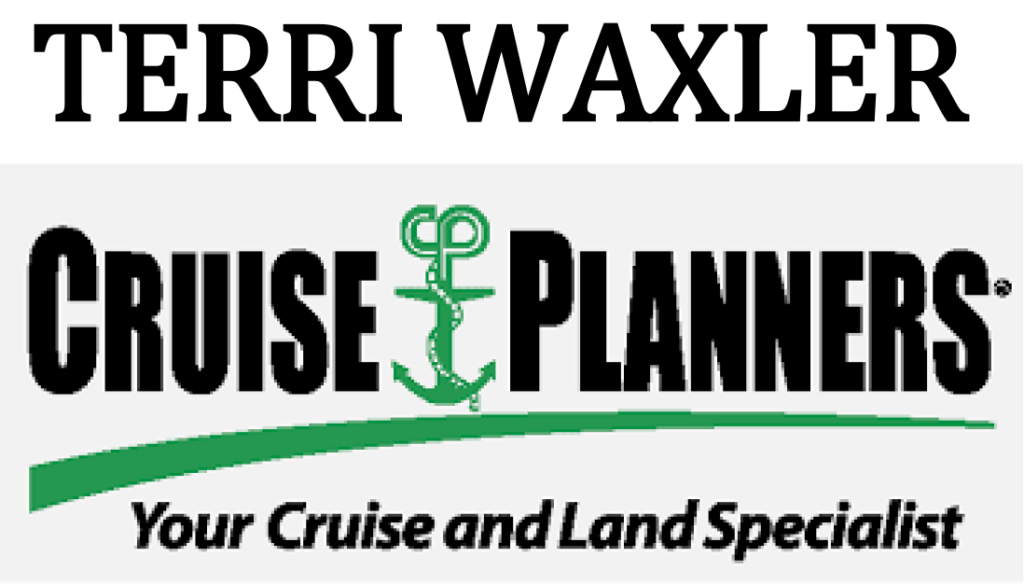 Before your team applies to be a part of this event, we strongly encourage you to review all of the rules and guidelines that you and your team will be responsible for adhering to prior to and during the event. Once you have reviewed any and all rules and guidelines, asked us any questions (if applicable), you may then proceed to submit your application online.

Please make checks payable to Wings Over Memphis and mail your payment to:
World Wing Festival c/o Robin Fecteau
2662 Grystone Dr.
Southaven, MS 38671
Booth Space Information
Space Cost Extra's
10×10 $250
10×20 $450 (Add Private Port-o-let +$100.00)
10×30 $650 (Add Private Port-o-let +$100.00)
10×40 $850 (Add Private Port-o-let +$100.00)
The fee to participate in the contest depends on the amount of booth space that you request for your team (see pricing above). This is required per team and must be paid in full by the entry deadline of August 9th, 2020.
This year, we will offer an upgrade to returning teams that have been with us and have made exceptional contributions. These teams can choose to upgrade their space for no extra charge.
Cancellation
Life happens and things change. We understand that. We do kindly ask that you please notify us in advance (within one week / 7 days) of the event or at your earliest convenience so that we can release your space to another team as needed.
Official Rules and Regulations
The cooking portion of this contest is sanctioned by the Kansas City BBQ Society ("KCBS") and as such is governed by the regulations and guidelines which they have established. All contestants will be evaluated through a blind judging process which shall be administered by independent KCBS Certified representative(s). This guarantees impartiality and fairness to all of our cooking teams vying for top honors at our event. The event organizers for the World Championship Hot Wing Contest & Festival have absolutely no input in the official judging process. The rulings of the KCBS judges are final.
Please Review Official Cooking Team Rules and Regulations
When applying to participate, you will be required to indicate that you have reviewed and acknowledged all of the rules and guidelines that have been outlined herein. Your application constitutes acceptance of these rules and your intent to adhere to them while participating in this KCBS sanctioned cooking contest.
Awards and Prizes
In addition to bragging rights, we will award prize money and a trophy to the top 3 scoring teams as determined by our KCBS judges.
• Grand Champion – $5,000, bronze trophy and free entry to next year's contest
• 2nd place or Runner Up – $1,000, bronze trophy and automatic entry to next year's contest
• 3rd place – $500, bronze trophy and automatic entry to next year's contest
• 4th – $250, trophy and automatic entry to next year's contest
• 5th – $100, trophy and automatic entry to next year's contest
In addition to first-place honors, teams will also receive a trophy, recognition on our hall of flame, and an invitation to participate in one of our affiliated events (application fee's waived).
Best Presentation – "The Hottest Roost on the Row"

The winning team awarded $250 and boasting rights!
Judging Criteria for "The Hottest Roost on the Row" Award
1. Team Presentation
• Originality of Name/Theme
• How theme ties into individual group & festival
• Costume, dress, or appearance
• Interaction with the crowd & one another -"Team Spirit"
• Demonstrates good sportsmanship
2. Booth Presentation
• Originality
• Use of Decorations
• Eye-catching- attention-grabbing
• Representation of donations to RMH
Top Fundraisers
50% of the purpose of this event is for teams to help raise money by collecting donations from festival patrons in exchange for sampling some of your various hot wings throughout the day. The team who raises the most money in donations for the Ronald McDonald House while at our event shall be awarded the title of Top Fundraiser in the hall of flame in addition to complimentary admission to participate in the next annual World Championship Hot Wing Contest & Festival with all application fees waived.
Got A Question?
If you need help with something that has not already been answered below, please feel free to contact us for assistance.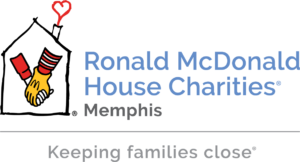 APPLY ONLINE NOW BELOW >